hen she was a little girl, Anna Malvone would finish her classes and rush the few blocks to the neighborhood orphanage in Pianura, Naples. There, she helped the nuns in the kitchen, preparing simple meals with ingredients that were plentiful and cheap—tomatoes, garlic, basil and other staples of Italian life from the nearby fields.
It might have been an orphanage, but it was in its own slice of paradise. The slopes of Mount Vesuvius are always resettled after an eruption, and the soil so rich that wine from the local grapes is called Lacrima Cristi, the tears of Christ. Here, sustenance literally grows on trees; the land overflowing with apples, walnuts and persimmons.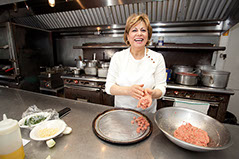 "In the winter, when the leaves dropped from the fruit trees," Anna will tell you, "the persimmons looked like light bulbs. Nobody had picked them, there were so many."
She ultimately moved from helper to cook, and until she left for the U.S. at age 24, Anna nudged and coaxed the flavor out of each ingredient for the children. In every dish, each taste was distinct and bright. Elegantly simple meals like these are described as cucina rustica in Italy.
Now, Anna Malvone is the owner and chef at Anna's Cucina Rustica in Vandergrift. Just a quick zigzag off a lonely stretch of state Route 56, the two-story building sits showcased between two ample parking lots. The softly lit dining room seats 90, with crisp white linens allowing no distractions from the food.
There are no recipes. Anna cooks from memory and instinct, with a pinch of this and a handful of that. Early every morning she bakes the daily bread; simple round loaves, chewy yet tender, like in the old country. And every day she starts anew, washing lettuce, making meatballs, assembling lasagna and ravioli.
Order a steak and she cuts it fresh. Order bruschetta, and that is when she starts chopping the tomato and basil. Everything is local, except the sauce tomatoes, imported from Italy. And every ingredient must pass the test of her childhood or be rejected.
You may start your meal with Anna's signature Bocci Balls, a mixture of pork, spinach and bread, baked in a sauce of banana peppers and onions. Or taste the wedding soup, made with skinless chicken in a clear, fat-free broth that swims with tiny meatballs and carrots that push back when you bite them.
But if she served nothing else, lines would form for Anna's meat sauce. Simmered with ground beef and pork, a velvety sweetness comes from the best ingredients cooked for just the right amount of time. And marinara sauce—tomatoes, basil, garlic and fragrant olive oil—is quickly sauteed and ready in the time it takes for the spaghetti to cook. All very simple.
"Not a lot of spices so you taste the food. The more stuff you put in food, it doesn't taste good," Anna says.
It is a limited menu, favoring pasta, but everything is done to perfection. Crab cakes are a favorite, and there is a list on the wall of customers who insist on being called when Anna makes eggplant parmigiana.
The dolce is a sweet surprise. Coconut cream pie, nearly five inches high, and old-fashioned chocolate cake are offered daily. Throughout the menu, there can be specials, depending on the season, all made with the attention and love of Anna.
"Nothing goes out of this kitchen that I didn't make. That's why I close when I'm gone," she says. So when she returns to the slopes of Vesuvius to visit the scene of her culinary beginnings every few years, her customers and friends here count the days.
If you are from Pittsburgh, it is a bit of a drive to Anna's Cucina Rustica, about 40 minutes for most. But then again, if you crave food like this, Vandergrift is a lot closer than Napoli.